Kids Party Spare
> 55 minutes of disco bowling with bumpers
> unlimited lemonade
> bag of potato chips
> popsicle

Monday - Friday € 8.00 per child
Saturday - Sunday € 9.00 per child
BOOK ONLINE

> Bookable from 4 children.
> There's a maximum of 6 children per lane. For example, if you book for 7 children, you will get 2 bowling lanes.
RESERVE BY PHONE VIA 020 645 55 57.

Times:
Mon - Fri bowling until 18:00 hrs
Sat - Sun bowling until 16:00 hrs (starting on the whole hour)

Bring your own cake:
On weekdays (Monday to Friday) it is possible to reserve a table to eat cake when you've booked the Kids Party Spare. We charge € 1.00 service costs per child for this. We then set up a table and provide plates and forks.
If you reserve the Kids Party Spare on Saturday or Sunday, this is not possible. It is allowed to eat cake (only a birthday cake or small cakes) at the bowling lanes during bowling, we can provide plates and forks free of charge. You can ask for plates and forks at the bar.

Guidance:
You must take care of the supervision of the children yourself. Guidance advice: at least 1 supervisor per 6 children.
We would like to hear from you how many supervisors are coming: they also count in the total number of people that may be present.

Bowling shoes:
Bowling shoes are available from size 31. If the children have smaller feet (or all shoes are in use), you can bowled on their own shoes.
Additions:
| | |
| --- | --- |
| extra half an hour of bowling (only possible Mon-Fri) | € 2.00 per child |
| extra hour of bowling | € 4.00 per child |
| bowling certificate | € 0.50 a piece |
| balloon on a stick | € 0.50 a piece |
| bag of potato chips | € 1.25 a piece |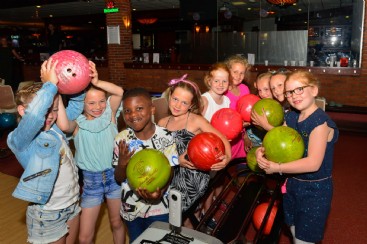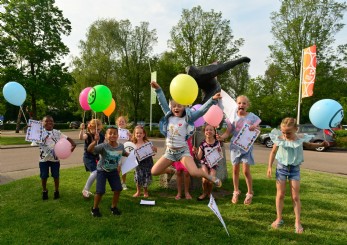 Gifts
| | |
| --- | --- |
| medal | € 0.50 |
| bowlingpin keychain | € 2.95 |
| stuffed animal small (25 cm) | € 3.95 |
| stuffed animal big (35 cm) | € 5.95 |
| bowlingpin bottle | € 5.95 |
| bowlingpin piggy bank | € 5.95 |
| original bowling pin (used) | € 9.95 |
| original bowling pin (new) | € 25.00 |